HERB-DRUG

INTERACTIONS HANDBOOK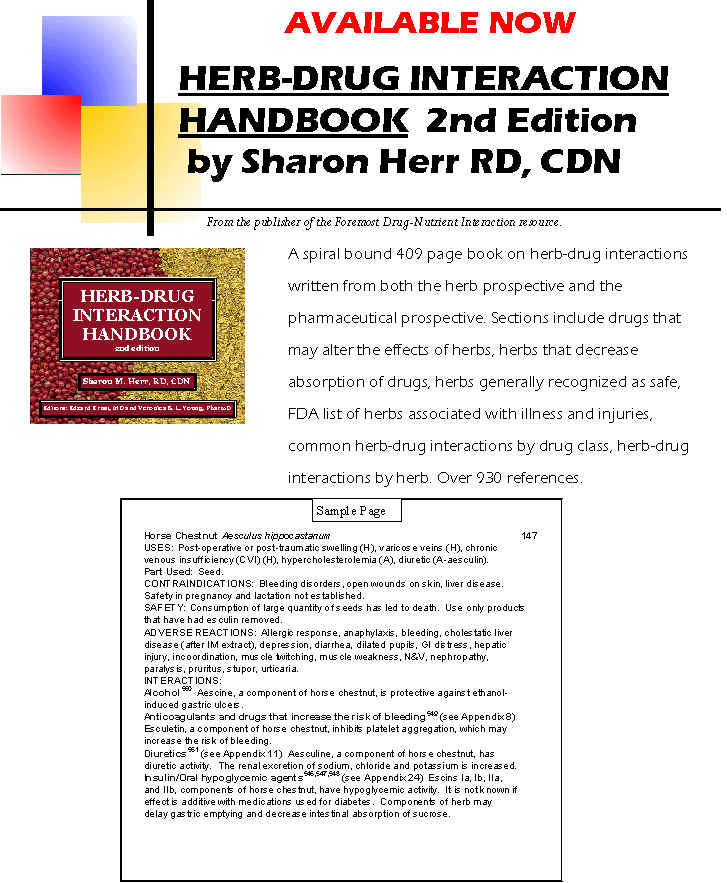 Author: Sharon Herr, RD, CDN
Sharon Herr is a Registered Dietitian and a Certified Dietitian in New York State. She has been a reviewer for Krause's Food, Nutrition, & Diet Therapy (a widely used nutrition text for undergraduates), written articles for nutrition newsletters and co-authored research papers presented at state and national dietetic conferences.
Editors:
Edzard Ernst, MD, PhD, FRCP (Edin.), Department of Complementary Medicine, School of Sport and Health Sciences, University of Exeter, England.

Dr Ernst has published several hundred papers, and 30 books. He is founder/ Editor-in-Chief of two medical journals, FACT - Focus on Alternative and Complementary Therapies and Perfusion. He served as an external examiner for the Universities of Bombay, London, Ulster and Manchester Metropolitan. He sits on the 'Medicines Commission' of the British 'Medicines Control Agency' and on the 'Scientific Committee on Herbal Medicinal Products' of the 'Irish Medicines Board'.
Veronica S.L. Young PharmD, Asst. Director, Drug Information Service, The University of Texas Health Science Center at San Antonio, San Antonio, TX. Editor of Multiple Editions of Food-Medication Interactions. Clinical Assistant Professor, University of Texas, College of Pharmacy, Austin, TX
Copyright © 1997-2003 Food Medication Interactions. Last updated 10/22/2003.
Home
FMI Book
FMI PC Software
FMI PDA Software
Herb Book
HIV Book
Speakers
Order Form
Links
Email